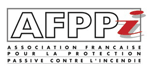 AFPPi Association Française pour la Protection Passive contre l'Incendie
10, rue du débarcadère - Bureau 726 - 75852 PARIS Cedex 17 + 33 (0)1 47 23 44 77
Matthieu Biens matthieu.biens@rockwool.com
Association régie par la loi du 1er juillet 1901, l'AFPPi regroupe les fabricants ou importateurs de matériaux, produits ou systèmes destinés à la protection passive contre l'incendie - les fabricants applicateurs-projeteurs -, ainsi que les syndicats, associations ou regroupements représentatifs des fabricants.
Peuvent adhérer en tant que membre associé les experts consultants, les syndicats professionnels et groupements ayant un lien professionnel avec la Protection passive. L'AFPPi a pour but :
de promouvoir les techniques de protection passive contre l'incendie,
de défendre les intérêts généraux des professions représentées,
de représenter ses adhérents auprès des administrations et des organisations professionnelles et techniques, nationales et internationales, laboratoires d'essai, organismes de contrôle, comités de normalisation, instances gouvernemental
MAJOR HOTEL FIRE IN UK Hundreds of hotel guests evacuated as Wokefield Park hotel goes up in flames The damage caused is expected to run into the millions.